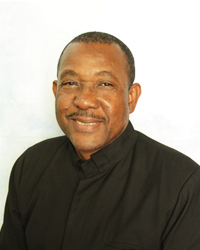 I greet and welcome All to the UTCWI website in the name of the Creator God, made flesh in Jesus and alive in All those who bear Jesus' name.
In August of 1983, I entered the UTCWI as a student and returned as a Tutor in August 2007. As a Student, I found the UTCWI, then as now, to be a vibrant and culturally diverse community of learning and worship with programmes shaped to provide for academic excellence, spiritual sustainability and self-care. I was well equipped with the necessary theoretical tools and awareness to exercise ministry in the diverse cultural contexts and variety of social circumstances in which I served.
Upon my return as a Tutor, I am discovering that the environment remains well-designed for wholistic development of students. Of course, the Sister Clare, Rabbi, Papa Gayle, Joyce Bailey, Donalds, Findley, Byfield, Jellyman, Ashley are long gone, some of blessed memory. Yet, there is no lessening of the quest for scholarly pursuits and engagement and commitment to ecumenical life-style among my current Colleagues and in the student body.
Serving currently as President, my ambition is to lead the Faculty and administrative team in retaining the best traditions as we shape the leadership of the church in the Caribbean to be creative and relevant in the 21st Century.
At the UTCWI, study and research are not limited to those whom the participating Communions send. Persons of whatever age and interests can come and increase their knowledge and develop competencies in any of the biblical, theological, ethical and pastoral disciplines at the Certificate, Diploma, Bachelor's, Master's and Doctoral levels. Besides, the UTCWI is affiliated to the University of the West Indies, Mona Campus. This relationship means the UTCWI's undergraduate and graduate degrees are granted by the University of the West Indies. In addition, UTCWI and UWI share full reciprocity of teaching and learning facilities. Furthermore, the UTCWI's location in Kingston offers opportunities for a variety of culturally diverse engagements and inquiry.
I anticipate welcoming and engaging you here in the UTCWI community.
Acting President, Rev Dr. Oral A.W Thomas